Pigeon Shiny Electric Kettle 1.5 Litres
Wattage: 1500 W

Capacity: 1.5 L

On / Off Switch, Press Button for Lid Opening, Easy to Pour, Built-in Steam Pipe, Metal Cladding around Base, Body Material: Stainless Steel
Pigeon Shiny Electric Kettle 1.5 Litres
5 new from Rs. 799
Free shipping
Buy Now
Amazon.in
as of September 17, 2019 12:08 am
Features
Wattage: 1500 W
Capacity: 1.5 L
On / Off Switch, Press Button for Lid Opening, Easy to Pour, Built-in Steam Pipe, Metal Cladding around Base, Body Material: Stainless Steel
Product Description
This electric kettle from Pigeon will soon become a travelers' best friend, a hostelite saviour and an answer to all the midnight cravings. With this handy appliance, you can boil water and use it to make instant noodles, packet soup, coffee and green tea. Ergonomic Design This appliance is ergonomically designed and comes with a comfortable, cool touch handle and a stainless steel body which allows you to boil water effortlessly. Power Consumption To help you save electricity and to make...
Rs. 799
Rs. 1,195
5 new from Rs. 799
Amazon.in
Free shipping
Last updated on September 17, 2019 12:08 am
Tatacliq.com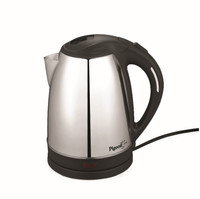 Flipkart.com
How to use Electric Kettle
Housekeeping Tutorial BKTTC,Dhaka.
Pigeon Multi Purpose Electric Kettle 1 LTR (Unboxing & Review)
Overview aims to make your life easier by giving you easy-to-operate products. With this product, you can boil water to make tea or just a warm glass of water to ...