The Ultimate Leak Detective
Ever smelled something pungent, realized it was coming from your AC and then rushed to switch it off? Well, gone are those days. The Refrigerant Leakage Detector switches the unit off as soon as it picks up any warning signals. The indoor unit also displays the relevant error code to let you know exactly what to do next.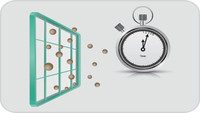 Dispose Your Troubles with Cleaning Alerts
Confused about when to get your AC cleaned? Don't worry, most of us are. That's where the Intelligent CRF (Cleaning and Replacement) Alert in this AC comes in handy. It reminds you to clean and replace your air filters when it's time. Well, that's one less thing to worry about!